How to Choose the Right Area Rug
Shopping for a rug can be overwhelming, especially when buying online.so we're here to help make your search easier. Think of this guide as your starting point to answer the tough questions and help you find the size, quality, and style of rug that's the best fit for your space.
1. What's the Right Size?
The size of your space and furniture layout are the two main considerations when choosing a rug size. Avoid the common mistake of buying a rug that's too small.if you're unsure or between sizes, err on the larger side for a final look that feels thoughtful instead of haphazard.
Living Area

There are three common furniture arrangements that impact the size you should get. The rug should always be grounded under your coffee table, and the right dimensions determined from there based on the layout you want.
| | | |
| --- | --- | --- |
| All Legs on the Rug | Front Legs on the Rug | Coffee Table on the Rug |
An all-legs-on layout is the best choice for anchoring open concept spaces
DINING AREAS
For the best area rug in your dining area, measure the length and width of the table, and choose a rug that's at least two feet larger on each side. This allows ample room for your guests' chairs to sit comfortably on the rug.
| | |
| --- | --- |
| All Legs on the Rug | All Legs on the Rug |
BEDROOM
Another option is to use a runner along each side of the bed — on hard floors or on top of existing carpeting — to create a soft, warm place for your feet in the morning.Use an area rug to make the bed the focal point of the bedroom. Measure the space for a rug that extends two feet to each side of the bed, unless it's on a wall. Don't be afraid to layer rugs.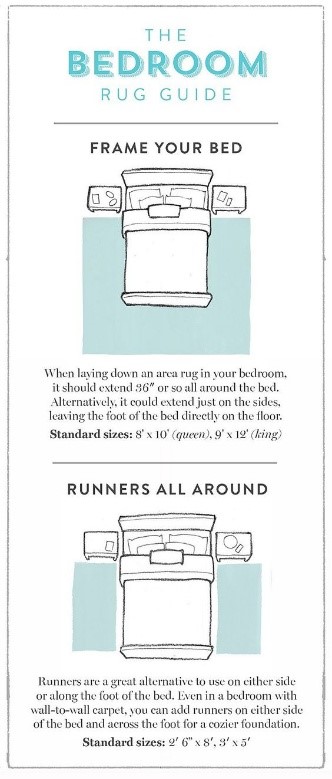 KITCHEN

Rugs in front of the sink or stove help ease pain in the feet, legs and lower back. Whether you choose individual rugs or a stylish runner, keep it about six inches away from the cabinets. If your rug doesn't have a slip-resistant backing, a rug pad can help prevent slips and falls.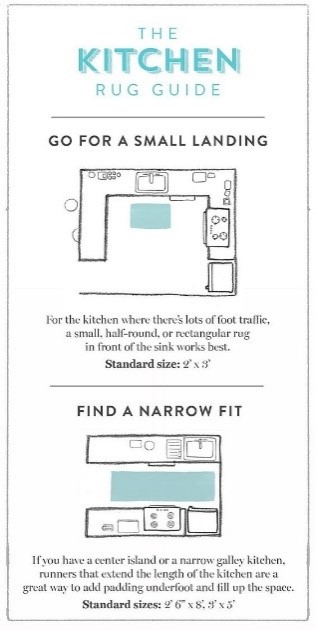 ENTRYWAYS
The right rug makes a great first impression. Look for something wider than the doorway for comfortable greetings and departures.Check the pile height to ensure your door will clear the rug when it's opened.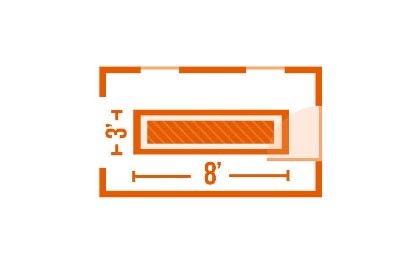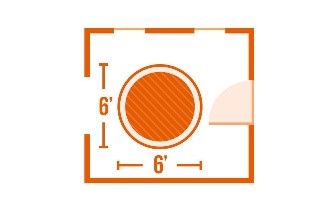 HALLWAYS & PASSAGEWAYS
A runner is the ideal solution for hallways and passageways. Make sure you have six inches of floor space on all sides of the runner for the most comfortable fit.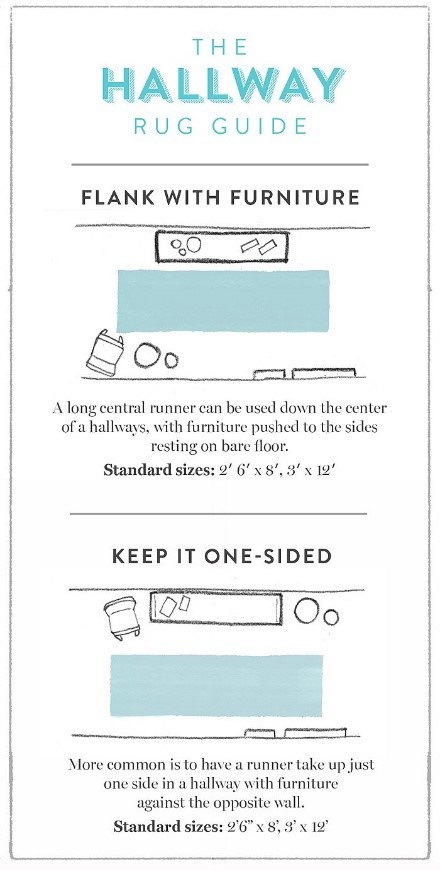 SHAPES
Don't be afraid to use shapes other than rectangle. Round rugs square rugs, runners, oblong or animal hide rugs are great for seating vignettes, passageways and entrances.
COLORS
To coordinate your rug color with an existing color palette, follow the 60-30-10 rule. About 60% of the room is your dominant color, such as the walls or the largest piece of furniture. 30% is a secondary color — this is where your rug color choice comes in. And 10% is an accent color, like vases and lamps. Accent colors should be from the rug and aren't dominant or secondary, so the entire room fits together nicely.
PATTERN
Before selecting a patterned rug, consider your space. Do you have patterned walls or furniture? If so, it might be best to choose a subtly patterned rug. If your space is filled with solid color, a bold or bright pattern may liven things up.
TRAFFIC
When buying an area rug, consider foot traffic. Low pile works best in high-traffic areas, as it is easier to hide tracks. A detailed pattern is also helpful in high-traffic areas, as it helps hide stains. High-pile rugs are soft, making them great for bedrooms and sitting areas.
SELECT YOUR RUG PAD
Rug pads keep your rug properly positioned, preventing it from slipping. Rug pads also:
Reduce wear and tear on the rug
Help to absorb the impact of feet and noise
Make vacuuming easier
Protect smooth-surface flooring, like hardwood and laminate, from being scratched by the back of the rug
For rugs placed over carpet, use carpet tape or a rug pad.