Gabbeh
18 Dec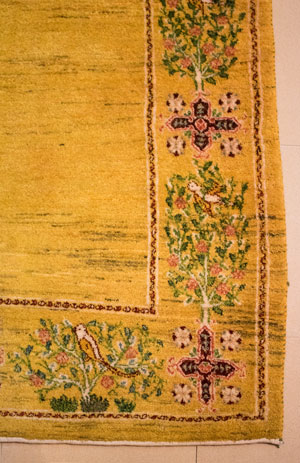 Gabbeh, a feminine art
Gabbeh is a small size rug which is handmade by nomad women of Lur and Qashqai descent that live in tribes in various regions.
Gabbeh is in many ways similar to carpet but perhaps the most important difference between them is in their long pile. During the production of a gabbeh, more wefts are used which influences the softness greatly. Sometimes the number of wefts in each row varies from three to eight and the length of each pile reaches one centimeter (one third of an inch).
What makes gabbeh really standout among handmade rugs all around the world is that they are crafted without any pre-determined pattern or scheme.
They are weaved based on imagination, emotions and folktales passed down from generation to generation.
The tribal women begin fabricating patterns inspired by nature and old tales and even if a customer requests that their gabbeh be tailored based on a specific pattern or scheme, weavers usually change the pattern based on their own characteristic and taste.
Preparation & creation
At first, weavers and organizers gather the wool from their own livestock or buy from other ranchers and nomads and then the gathered wool is separated and organized based on color.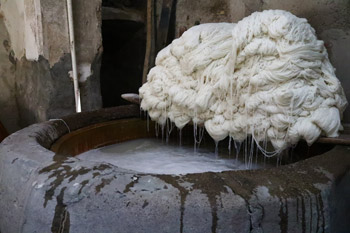 After washing, women and young girls spin and bend the wool around small and portable spindles.
Gabbeh is tailored on horizontal looms in a similar fashion to carpets.
The background is mostly consisted of bright colors such as white, cream or milky while patterns and the majority of the design is done with black, brown and other darker colors.
Sometimes in order to produce more vibrant and diverse set of colors, wool from Pakistani and Adenese goats is mixed with sheep wool and used as thread or to sew a hem.
Perhaps to the eyes of city dwellers, gabbeh is simply a beautiful carpet that they enjoy seeing it, but gabbeh with all of its colors, ties and design is part of the life of a tribal woman.
It is the product of ceaseless and tireless effort by the women who sing enthusiastically and recite traditional poems as they weave.